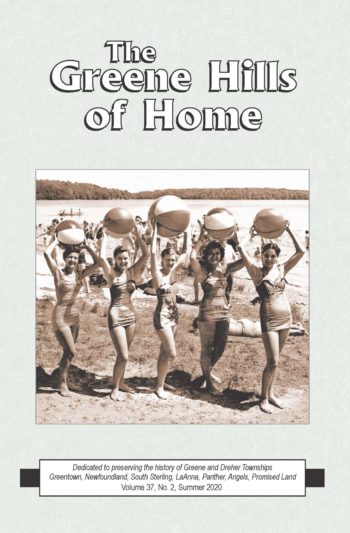 The featured article, "My Early Remembrances of Promised Land and the Bus Trip to School" by Barry Kistler relates how his family ended up in Promised Land and shares a little of the history of the village, as seen through the windows of the morning bus ride to Greene-Dreher School in Newfoundland in the 1950s and early 1960s.
"Hahn's Western Auto" by Ruth Altemier tells the story of the Western Auto Store in Newfoundland when it was owned by Adam and Florence Hahn in the 1940s, and how Adam's hobby of carving miniatures led to his amazing panoramic display, Mountainside America, on the store's second floor. Mountainside America was the precursor of America Wonderland, a well known attraction in Lancaster County.
"Greene-Dreher School Adapts to World War II" by Bernadine Lennon describes the many ways in which the school supported the war effort, including implementing a wartime curriculum. $8.49
Past issues of The Greene Hills of Home
The Greene-Dreher Historical Society published a quarterly journal about local and family history for more than thirty years,  from 1984 through 2020. Featuring primary source research, first-person accounts, oral histories and family photographs, the publications are a wealth of information about the area and a unique resource for researchers and genealogists. Most past issues are still available. All volumes have been compiled on a searchable Archive CD, available for sale. Past issues, $4.72;  Archive CD, $28.30.