The Board of Directors is pleased to announce the establishment of the Greene-Dreher Historical Society Legacy Fund. The purpose of the Fund is to support the Society and ensure its future financial stability.
The Legacy Fund was made possible by a major gift from founding member Thomas Berger. Tom grew up on the family farm in Greentown in the 1940s, the middle son of five children. Although he spent most of his adult life in California, he retained close ties to his hometown and the Greene-Dreher community and often shared amusing stories of friends, neighbors and former schoolmates in letters typed on his "handy-dandy, old-fashioned Smith-Corona," preferring it to his computer.
"I have read and reread the interesting articles in the latest issue of The Greene Hills of Home. They sure have brought back vivid pictures of the days of my childhood and adult growing up. I was especially taken by the article, "Hahn's Western Auto." It gave me such fond memories of the days when our family shopped there. It was one of our favorite stores. When I was a young man, 18 years of age, it was nearing Christmas and I didn't have any money for Christmas gifts. I owned a clunker of an automobile. I sold it for $20 that I might have some money for Christmas gifts. At the time Western Auto had a Christmas catalog and I browsed through it many, many times. With my twenty dollars I was able to buy one gift for each member of the family. Needless to say, a dollar went a long ways back then!" —Tom Berger, 2020
After his retirement Tom volunteered at the library in La Pine, Oregon, where he shared his treasured copies of The Greene Hills of Home with his co-workers and where he is remembered as "quite the dapper gentleman who had a peaceful kindness about him."
"Tom Berger volunteered at the La Pine Library for over 12 years. For most of those years, Tom shelved children's items, which included picture books – not for the faint of heart! He was considerate and caring of others and a very special part of our volunteer team. He was also very generous. He made financial donations to Friends of La Pine Library for many years, which in turn supported the library. We miss Tom and his dedication."
—Cathy Zgraggen, Operations Supervisor, Deschutes Public Library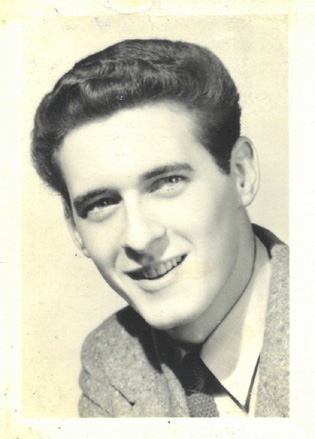 Thomas Edward Berger (1933–2020)
Founding Member, Greene-Dreher Historical Society Legacy Fund
Tom grew up in Greentown and graduated from Greene-Dreher-Sterling High School in 1952. With his generous bequest to the Greene-Dreher Historical Society in 2019, Tom provided the seed money for the Legacy Fund and the foundation for the Society's future financial stability.
The GDHS Legacy Fund will be managed by the Wayne County Community Foundation, a charitable organization that creates and administers funds for individuals and non-profit organizations for the benefit of the community. The Historical Society will retain the principal and interest earned, and as the Fund grows it will provide a supplemental reserve to meet unplanned, immediate expenses, fund future capital projects, and ensure that the organization will continue in its mission to preserve, protect and promote local history.
For more information on the Greene-Dreher Historical Society Legacy Fund and how you can make a bequest, please contact us at info@greenedreherhs.org